Cenacle of the Rose – 07 February 2014
---
Upper Room at the Villa Rose Excelsa
Friday 07 February 2014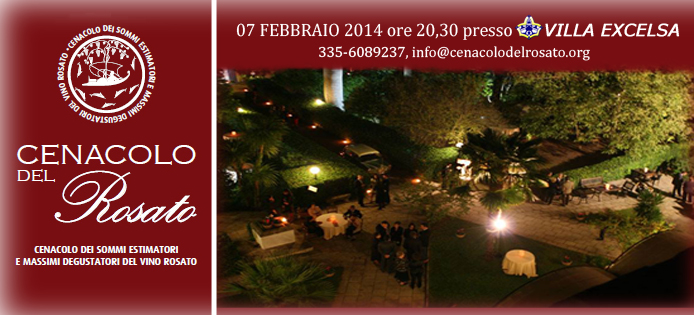 We are pleased to host this food and wine event , so' stimulant , full of rose wine , that your association established ," The Last Supper by Rosato" , tries to make known also because it is the history of our civilization and of' wine of Salento.
Therefore, we have helped to create a menu with traditional food in the spirit of innovative cuisine.
For members and friends and fans send the invitation in pdf format, Full price.
MENU - TASTING
the rose wine
pettole and Argentine (so-called "minoscia")
wine: Southeast Rosé - winery Conti Zecca
chicory and ricotta pie Arneo
Pitta potatoes and onion stew with caruselle
wine: Rosé of the Cenacle
casserole of eggplant and violet gallipoli
bluefish tuna and veils
small tube of sea
tria with chick peas and mussels
– combination of extra virgin olive oil certified D.O.P.
Terra d'Otranto, Faiulo – Presicce (The)
traditional sweets
mostaccioli
pittedde mustard
spumone mattone
wine: Aleatico - cantina Santa Barbara
Article about the event :