Notturni d'autore – the night to read ... – 8 – 23 – 30 October
---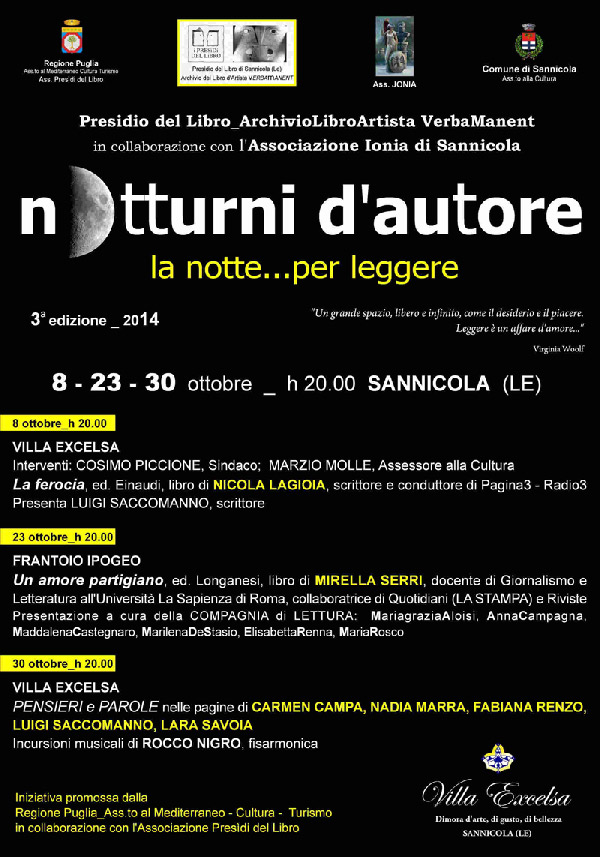 Iniziativa promossa dalla Regione Puglia_Assessorato al Mediterraneo_ cultura_Turismo in collaborazione con l'Associazione Presidi del Libri
Patronage of Sannicola_ Ass. alla Cultura
The Presidium of the Book / Archive of the Artist's book VerbaManent
in collaborazione con l'Associazione Ionia di Sannicola
presents
_ nottat urnithours _
the night to read ...
3Edition 2014
8_23_30 October
Sannicola (Lecce)
Sponsor VILLA EXCELSA (SANNICOLA)
dwelling arte_ of gusto_di beauty
"A large space, Free and infinite, as the desire and pleasure.
Reading is a labor of love; for this we start from what we loved, words heard or read, transcribed for you, to widen the circle of love and intelligent read more, to infinity. Without knowing where we will end up, trusting only of paradise "
Virginia Wolf
Reading is a labor of love, is joy and pleasure, fascination and seduction, inexhaustible nourishment, immersion in the complexities of being and existence, contagion of the passions and discoveries, crossing of other existences: is to gather around the fire with friends who tell stories and share the warmth of emotions.
Nasce da questa dichiarazione d'amore verso i libri la Rassegna "Notturni d'autore" (third edition) , new journey of meetings organized by the Composers and Authors Archive of the Presidium of the Book-Book Artist VerbaManent in collaboration with the Association of Ionia Sannicola and sponsored by the City of Culture Sannicola_Assessorato.
The program will see the following attendance:
8 October , h 20.00
VILLA EXCELSA_SANNICOLA
Interventions: COSIMO PIGEON, Mayor; MARZIO MOLLE, Head of Culture
The fierce, and. Einaudi, book NICOLA Lagioia, writer and presenter of Radio-Page 3 3
Presents LUIGI SACCOMANNO, writer
23 October, h 20.00
CRUSHER IPOGEO_SANNICOLA
A partisan love, and. Longanesi, book by Mirella Serri, Professor of Journalism and Literature at the University La Sapienza of Rome, collaborator Newspapers (LaStampa) and Magazines
Presentation by the COMPANY of READING: MariagraziaAwould create a, AnnaCampagna, MaddalenaCastegnaro, MarilenaDandStasio, ElizabethRenna, MariaRosco
30 October, h 20.00
VILLA EXCELSA_SANNICOLA
THOUGHTS and WORDS in the pages of CARMEN CAMPA, Nadia MARRA, FABIANA Renzo, LARA SAVOIA, LUIGI SACCOMANNO
Raids music ROCCO NIGRO, fisarmonica.Conduce the meeting Maddalena Castegnaro, Presidio Book
The writers will tell you with stories and verses from their latest works: feelings, thoughts, visions, experiences, stories marked their intelligence, depth and sensitivity.