Tribute to Vittorio Bodini – 23 March 2014
---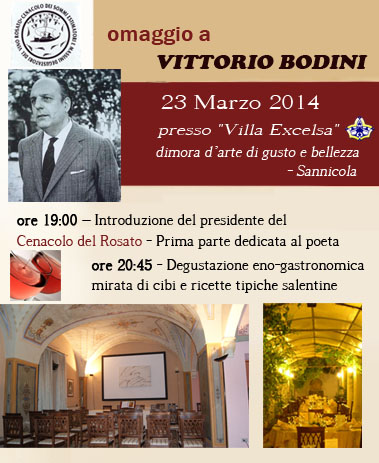 Villa Excelsa , home art taste and beauty, Sannicola , ospiterà l'evento
"TRIBUTE TO VICTOR BODINI"
" For a ransom of rosé of Salento and its entire territory"
By de
"The Cenacle of the Supreme Estimators and Maximum Rosé Wine Tasters" and the collaboration of Cibusalento
Program :
hours 19:00 - Introduction of the President of the Upper Room of the Rose: It. Malorgio – First part dedicated to the poet V. Bodini speaker : Prof.. A.L. Giannone
hours 20:45 – Targeted food and wine tasting foods and recipes Salento
Participation in the first part is free .
For information and reservations call the tasting typical 3355316262 – 3356089237 or send an e-mail to : villaexcelsa@libero.it - ​​info@cenacolodelrosato.org
Referrals: Mino Cat and Massimo Screener
Any reservation requests during the same evening will be accepted based on availability expected by the organization.