And the Happiness, Prof.? – Tuesday 27 May 19,30
---
The Presidium of the book of Parabita is pleased to invite you.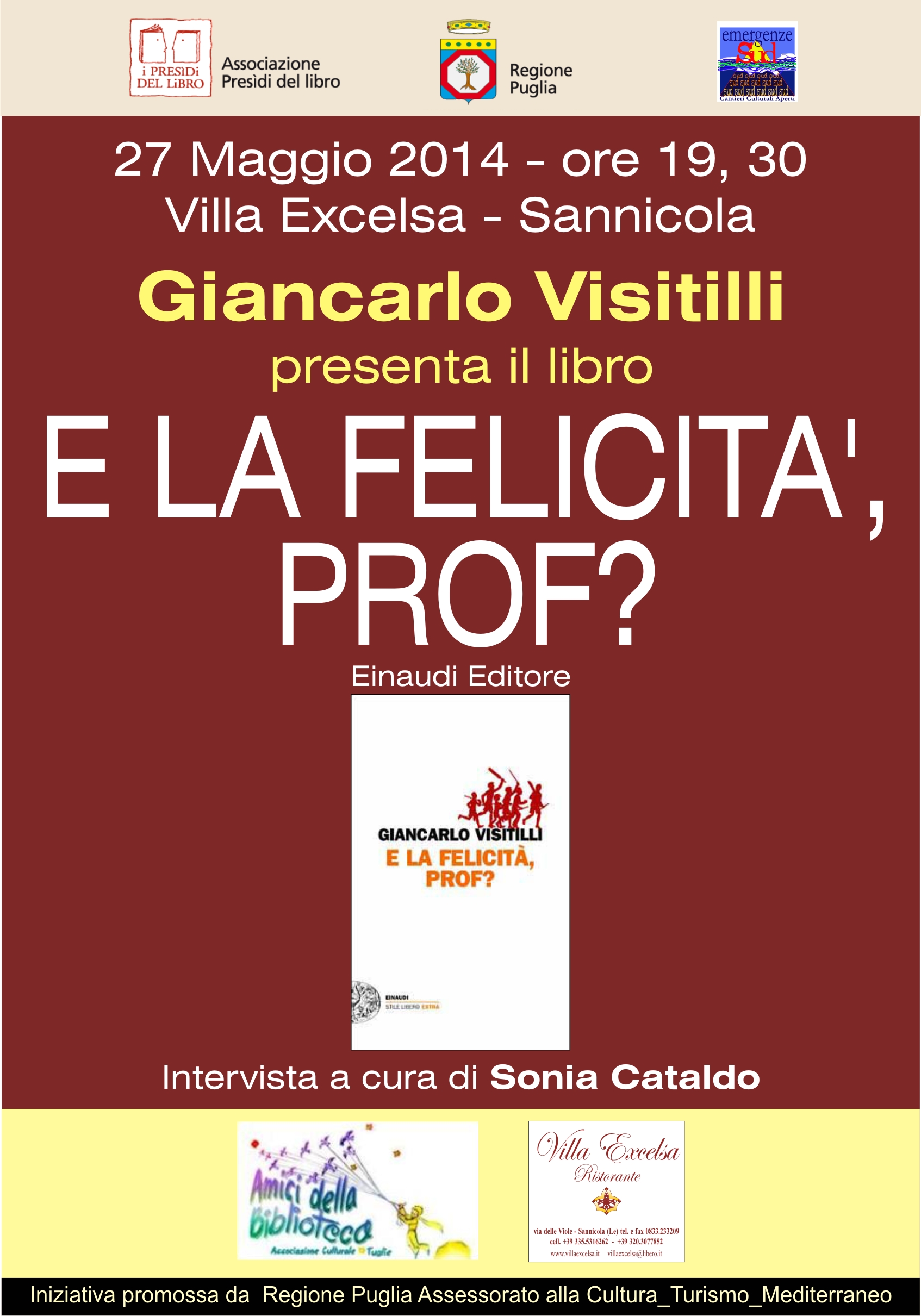 Tuesday 27 May at 19,30
C/O VILLA EXCELSA – SANNICOLA
GIANCARLO VISITILLI PRESENTS
" E Happiness', PROF? " (EINAUDI)
Among stories " everyday resistance" , need to find a job, industrious for a more certain future… a special invitation to students, so do not give up the pursuit of happiness !!
In the splendid setting of Villa Excelsa, historic home of Salento (Sannicola) which was the home of Achille Starace, from 22 April of 8 June will be an exhibition " Visit Courtesy IV" , personal painting of Lorenzo Polimeno care of the Friends of the Library of Tuglie.
During the exhibition will be presented by the two writers Presidium of the book of Parabita, Nichi Persian and Giancarlo Visitilli, authors of the books " Spaghetti Heaven" and " And happiness, Prof. ? ".
The authors will be presented respectively 6 and the 27 May at 19,30 .
" E congratulates, prof ? – Einaudi
A professor of Humanities of our South, that the power of the school as a tool to train people to be aware of and promoting social mobility, we really believe. His curious look towards the students nor returns in this book the true voice, a surprising candor and accuracy, moved by, make you smile. Adolescents who tells are often far from the stereotypes, able to think and say things "unexpected" (the politica, family, cheering sports, religion…) Above all, seen through their eyes, the adult world becomes a "invitation to massacre" and a school "gym to get used to the worst of life". Visitilli, professor unusual, fixed with Don Milani and De André, is indignant at the stupidity with which the school judges sometimes, or for laziness and lack of courage of which the insecurity and the lost prestige of the profession are not the only causes. And yet is passionate: believes that educating means first of all the guys push the pursuit of happiness. Pupils with autism, foreign, with fathers threatened by Lace, or unwanted pregnancies, or sisters in a coma, Pupils who arrive even to commit suicide. Their stories are about love, disease, diversity (ethnic, economic, sexual), integration, violence, drug, historical memory, anorexia, war… In short: life.. Why, even in an abandoned school in itself, and often trapped in old patterns, Visitilli does not give up what he considers the most important challenge of his craft: push any guy to the pursuit of happiness.